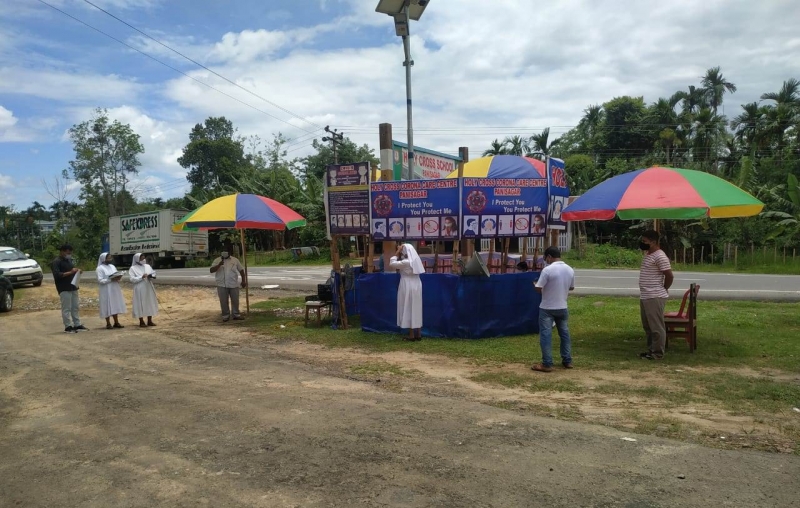 Corona Care Centre's in and around Holy Cross School Panisagar
Holy Cross Corona Care Centre, Panisagar, was inaugurated on  Monday, June 14, 2021 by Shri. Dhanonjoy Das, a local social activist, Agnipasa Gram Panchayat where Holy Cross High school, Panisagar is situated. Speaking on the occasion Dr. Aronobha Chackroborty, Chief Medical Officer, North, praised the enormous work of Holy Cross, Panisagar ane expressed satisfaction of the tremendous Corona Awareness Campaign  and Covid Relief Kit distributed by the unit. He also distributed the masks to the general public present on the occasion and spoke about how to use the masks effectively. He expressed his desire to network with the district initiative in this direction. 

The idea of a Holy Cross Corona Care Centre came up when we expressed our desire to reach out and rebuild the lives of the people affected by Covid-19 pandemic to Shmt. Lalnun Nemi, Sub-Divisional Magistrate, Panisagar. Well the centre will give away masks to the general public, give assistance in helping the people in their various needs - emotional, medical, and physical as linking agency. Every day one of the Sub-Divisional authorised volunteer ( Two priests and three sisters) will operate from the centre from 11.a.m. to 12.00 noon. Sunday will be holiday. We also help people in registering their names on line for availing Covid  vaccination. The people here not tech-saavy this assistance will go a long way especially for the elderly and the people who come from interior villages. 
Besides Sisters, staff of the school Dr. Sudip Das, School Managing Committee Member and his wife Dr. Padmaja Pukayastha were present. Mr. Imlal Chuwng, a well wisher and local leader too attended the programme whic lasted for a 30 minutes. 
Fr. Davis Konuran CSC. 
Principal
Holy Cross School Panisagar